---
END TIME BIBLE PROPHECY HEADLINES: REFER ROMANS 1:26-32, TAIWAN PERMITS SAME-SEX MARRIAGE HISTORIC IN ASIA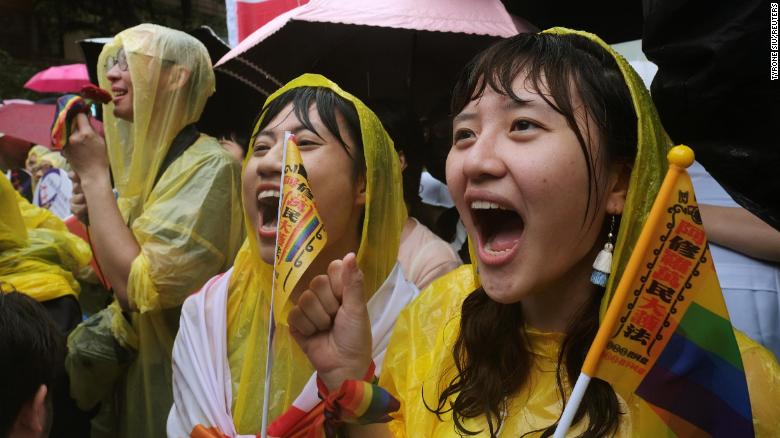 Lawmakers in Taiwan have approved a bill legalizing same-sex marriage, a landmark decision that makes the self-ruled island the first place in Asia to pass gay marriage legislation.The vote came almost two years after the island's Constitutional Court ruled that the existing law — which said marriage was between a man and a woman — was unconstitutional. The panel of judges gave the island's parliament two years to amend or enact new laws.On Friday — only a week off the two-year deadline — lawmakers in Taiwan's Legislative Yuan passed a bill making same-sex marriage a reality. It will go into effect on May 24.
END TIME BIBLE PROPHECY HEADLINES:
Luke 17: 26 "Just as it was in the days of Noah & Lot, so also will it be in the days of the Son of Man is revealed."
Thus, we need to examine how it was in the days of Noah & Lot, as a further indication of how it will be in the day when Jesus is revealed, even the days we are now in.
The sin was grievous.
Romans 1 26 Even their women exchanged natural sexual relations for unnatural ones. 27 In the same way the men also abandoned natural relations with women and were inflamed with lust for one another. Men committed shameful acts with other men, and received in themselves the due penalty for their error.
28 Furthermore, just as they did not think it worthwhile to retain the knowledge of God, so God gave them over to a depraved mind, so that they do what ought not to be done. 29 They have become filled with every kind of wickedness, evil, greed and depravity. They are full of envy, murder, strife, deceit and malice. They are gossips, 30 slanderers, God-haters, insolent, arrogant and boastful; they invent ways of doing evil; they disobey their parents; 31 they have no understanding, no fidelity, no love, no mercy. 32 Although they know God's righteous decree that those who do such things deserve death, they not only continue to do these very things but also approve of those who practice them.
ARE WE IN THE DAYS OF NOAH & LOT ???
YES WE ARE IN THE DAYS OF NOAH & LOT. JUST THINK OF IT HOW SOON THE JESUS RETURNS COULD BE!
BELIEVE IN THE GOSPEL | TURN FROM YOUR WICKED WAYS | ACCEPT JESUS AS YOUR PERSONAL SAVIOR | HE IS COMING SOON
READY 4C | Preparing a generation for Christ's return