---
End Time Headlines: Major earthquake has rattled the Philippines on 22nd and 23rd April 2019 – Matthew 24:7
Matthew 24:7
"For nation will rise against nation, and kingdom against kingdom, and in various places there will be famines and earthquakes.
Jesus Christ gave us a comprehensive, flawless prophecy concerning end-time wonders including war, famines, pestilence and "earthquakes in divers places" in answer to His disciples query "What shall be the sign of Thy coming and of the end of the world"?

Earthquakes are a sign as well as a message from the Almighty to us all.
Earthquakes are a WAKE-UP CALL for us to repent & get right with God.
Earthquakes can be a warning of impending judgment and a call to righteousness.
PRAY FOR THE WORLD | REPENT | BE SAVED | JESUS COULD RETURN ANY TIME WHEN YOU THINK NOT.
Prepare yourself and Prepare your loved ones to meet your Savior Jesus Christ.
Source: CNN News
Updated 1547 GMT (2347 HKT) April 23, 2019
https://edition.cnn.com/2019/04/22/asia/philippines-earthquake-intl/index.html
Philippines 6.1-magnitude earthquake leaves 11 dead, 30 feared trapped
A second major quake has rattled the Philippines after an earlier 6.1-magnitude earthquake that left 11 people dead and 30 still feared trapped in the rubble.
The magnitude 6.3 earthquake with a depth of 53.6 miles (83.3km) was registered on the island of Samar in central Philippines on Tuesday afternoon local time, according to the United States Geological Survey (USGS). There is no tsunami warning and no immediate reports of damage.Tuesday's earthquake follows a large earthquake on Monday which struck near the town of Bodega on the Philippine island of Luzon on Monday, according to USGS. The death toll from Monday's earthquake climbed to 11 on Tuesday, CNN Philippines reported. Around 30 people are still believed to be trapped after a supermarket collapsed in Porac, Pampanga, a province northwest of the capital Manila.
Monday's earthquake
Monday's earthquake was felt in the capital of Manila as well as other parts of Luzon. CNN Philippines said that at least 52 aftershocks have been recorded.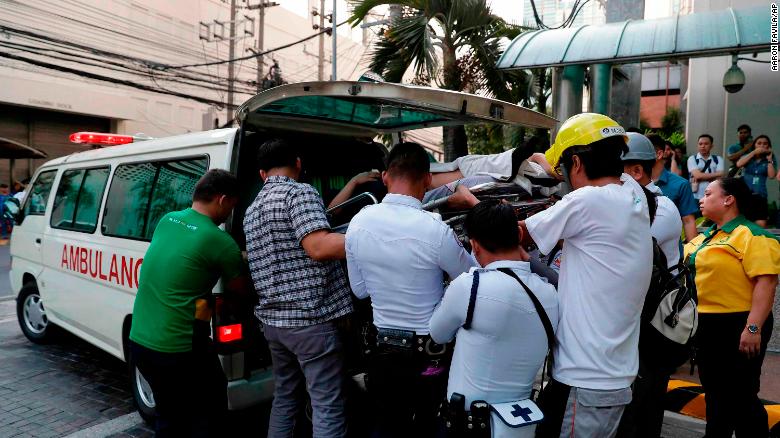 Workers carry an employee to an ambulance after she became dizzy when the earthquake hit Manila.Jaime Melo, president of the Clark International Airport Corporation, said seven people suffered minor injuries when part of the ceiling at the check-in lobby of a passenger terminal collapsed, according to the Philippine News Agency.The Philippines' Department of Transportation earlier announced that operations at the airport would be suspended for 24 hours due to the damage.Local budget airline Cebu Pacific Air announced that it had canceled six flights scheduled for Monday evening as a pre-emptive measure. The airline said it would allow passengers on affected flights to get a full refund or re-route their flights via Manila.
In Manila, video emerged of water cascading from a penthouse swimming pool to the streets below as the quake shook the city.Skyscrapers swayed from the force of the quake, causing frightened office workers to flee the high-rise buildings in the capital.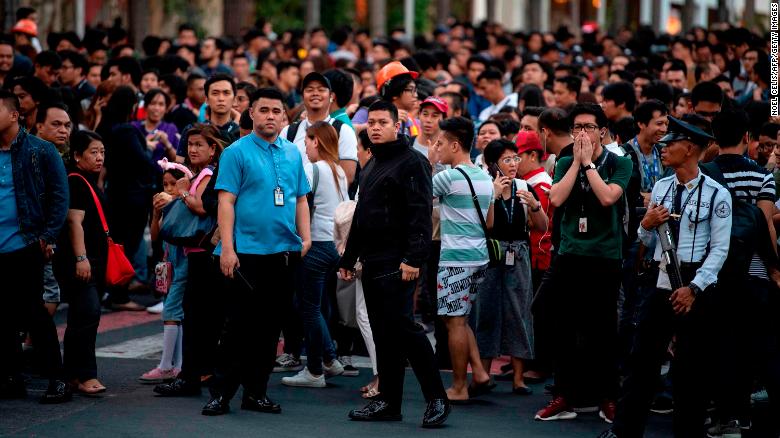 Employees seen in Manila, after an earthquake rocked high-rise buildings there.The National Grid Corporation of the Philippines is assessing the extent of damage on transmission lines in Luzon, which caused power outages in parts of the island, according to the Philippines News Agency.Operations at the Ninoy Aquino International Airport, which serves Manila, are continuing normally, the Department of Transportation said.