---
End Time Headlines- California wildfires 2018
The 2018 California wildfire season has been one of the most destructive on record in the state of California.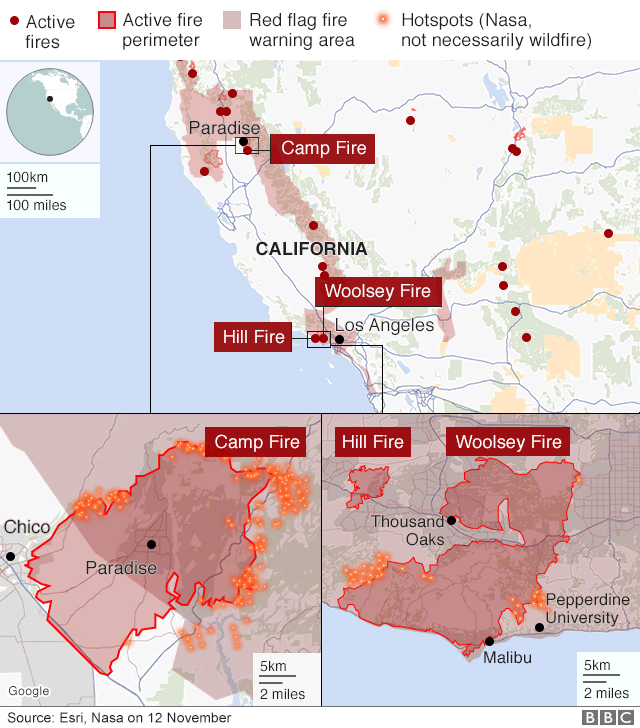 Locations:
Camp Fire

Woolsey Fire

Hill Fire
Impacts:
During 2018, a total of 7,579 fires had burned an area of 1,667,855 acres (6,749.57 km2), the largest amount of burned acreage recorded in a California fire season, according to the California Department of Forestry and Fire Protection and the National Interagency Fire Center, as of November 11.
The fires caused over $2.975 billion (2018 USD) in damages, including $1.366 billion in fire suppression costs. https://en.wikipedia.org/wiki/2018_California_wildfires
The death toll in wildfires sweeping California has risen to 31, with more than 200 people still missing, officials have said.
That fire now equals the deadliest on record in California – the 1933 Griffith Park disaster in Los Angeles.
An estimated 250,000 people have been forced to flee their homes to avoid three major blazes in the state.
Emergency teams have been sifting through the remains of more than 6,700 homes and businesses burned down in the town of Paradise.
At a news conference late on Sunday, Butte County Sheriff Kory Honea said the bodies of five people had been found in their burned-out homes and a sixth was found inside a vehicle. He said that at least 228 people were still unaccounted for, adding that DNA testing equipment was being sent should it be required to help identify victims.
https://www.bbc.com/news/world-us-canada-46175339?intlink_from_url=https://www.bbc.com/news/topics/cjyq4rd3x3zt/california-wildfires&link_location=live-reporting-story
A message comparing our present day to that of Bible Prophecy.
2 Peter 3:7-13
7 By the same word the present heavens and earth are reserved for fire,being kept for the day of judgment and destruction of the ungodly.
8 But do not forget this one thing, dear friends: With the Lord a day is like a thousand years, and a thousand years are like a day. 9 The Lord is not slow in keeping his promise, as some understand slowness. Instead he is patient with you, not wanting anyone to perish, but everyone to come to repentance.
10 But the day of the Lord will come like a thief. The heavens will disappear with a roar; the elements will be destroyed by fire, and the earth and everything done in it will be laid bare.
11 Since everything will be destroyed in this way, what kind of people ought you to be? You ought to live holy and godly lives 12 as you look forward to the day of God and speed its coming. That day will bring about the destruction of the heavens by fire, and the elements will melt in the heat. 13 But in keeping with his promise we are looking forward to a new heaven and a new earth, where righteousness dwells.
How We Should Live Until Jesus Returns ?
So then, dear friends, since you are looking forward to this, make every effort to be found spotless, blameless and at peace with him. (2 Peter 3:14)
Therefore, dear friends, since you have been forewarned, be on your guard so that you may not be carried away by the error of the lawless and fall from your secure position. (2 Peter 3:17)
But grow in the grace and knowledge of our Lord and Savior Jesus Christ. To him be glory both now and forever! Amen. (2 Peter 3:18)
Conclusion :
Fulfilled prophecy is one proof that the Bible is a supernatural book. Hundreds of Old Testament prophecies have already been fulfilled, and it is reasonable to conclude that what it says about the end times will be fulfilled as well. For those who know Jesus and have trusted Him as their Lord and Savior, His coming will be their blessed hope (Titus 2:13). But for those who have rejected Christ, He will be their holy terror (2 Thessalonians 1:8). The bottom line is this: to survive the end times, make sure you are a believer in Christ: "For God has not destined us for wrath, but for obtaining salvation through our Lord Jesus Christ" (1 Thessalonians 5:9).
"A Vision from the Lord creates a Mission from Heaven"
READY 4 CHRIST,
Preparing a generation for Christ's return.